Easter is just around the corner, and if you love to crochet, we have an adorable Easter Crochet make for you to try!
Even if the art of crochet is completely new to you, it is so fun and rewarding once you have completed a fabulous set of bunny ears (more on that later) or even seeing a huge blanket-project starting to take shape.
With crochet, you can be as creative as you like, experimenting with different coloured yarns and for the more experienced 'crocheter', exploring beautiful patterns – let your visions become reality!
At the beginning of lockdown, I'm sure we all planned lots of things we wanted to get done, such as organise that incredibly messy cupboard, clean all your silver, or even gardening to make the most of your garden? However, sometimes we just want to sit in a quiet room, with a cup of tea and get crafting!
If you are a complete beginner, (like me) head to Top Crochet Patterns to learn how to crochet and watch their fantastic video lessons covering crochet tips, tricks and techniques.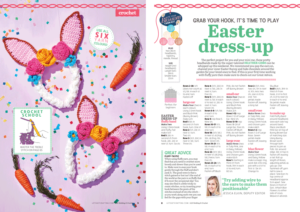 For those among you who are well practised, or even just a bit beyond a beginner, give this easy Easter-themed crochet project a go.
They are perfect for making the annual Easter egg hunt magical and memorable for the children (or you can just pop them on and enjoy wearing them for a while!)
You can download the FREE pattern here.
---

Emma Snow
I am the Brand Executive for Dairy Diary. A passionate foodie (with a very sweet-tooth). Who likes to blog about all things DIY & scrumptious recipes.